The NEX Tower, the Nova Group's latest development, is equipped with state-of-the-art sustainability initiatives. It uses indirect sunlight to reduce the need for artificial light, high efficiency air conditioners, and saves 50% of water consumption through rainwater collection. As a testament of its commitment to living green, it proudly displays an 11-meter high living green wall made by Vertical Green Philippines and other outdoor spaces within the structure, allowing its tenants to enjoy the healthy and natural elements in the middle of Makati's concrete jungle. Read on to learn more about its sustainability efforts that helped it earn the coveted Urban Land Institute (ULI) Asia Pacific Award for Excellence.
Sustainability is often not a consideration when it comes to the creation of our local business structures—that's why Ayala Avenue's NEX Tower, from the acclaimed Nova Group, deserves the recognition that recently came its way.Mandy Altura | Sep 09 2019
It may cost a premium to have an office at what is currently Ayala Avenue's swankiest building, the NEX Tower, but surely after this award its brokers won't have a hard time filling up its remaining vacant spaces. In a competition with over 50 entrants, the Nova Group's latest baby was selected as the winner of the Urban Land Institute (ULI) Asia Pacific Award for Excellence. Many other projects were sent to the awards program from developers all across Asia, with the NEX tower chosen as the sole finalist from the Philippines.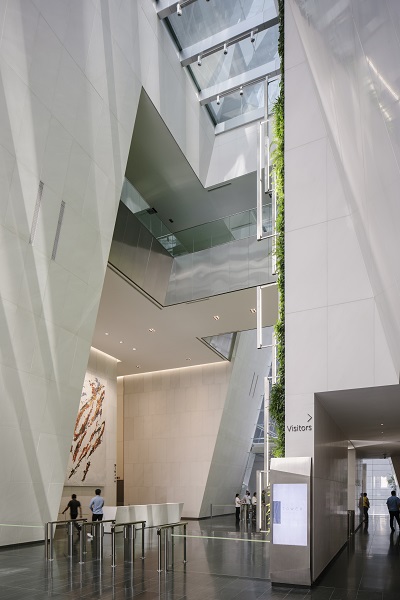 Healthy workplace
The award is a testament to the Nova Group's architectural prowess, and the new tower's distinct features. For starters, it boasts a tall, crystalline design creating a distinctive presence in its neighboring area. It is also equipped with commendable sustainability initiatives. The structure uses indirect natural daylight to reduce the need for artificial lighting, as well as the highest efficiency air conditioners currently on the market.
The NEX tower also concerns itself with the wiser water consumption and saves 50% of water through rainwater collection. Also, it features an 11-meter tall green wall and other landscapes outdoor spaces within the tower, providing healthy and natural elements for its occupants in the middle of concrete Makati.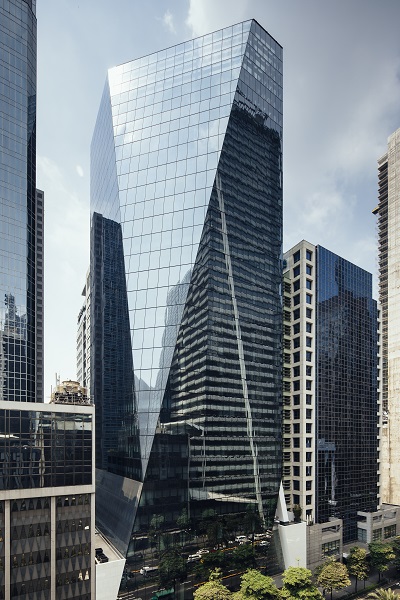 Thanks to this biolithic design that carefully manages natural resources, the NEX tower managed to achieve the highest criteria for sustainability initiatives. Mario Veloso, director of VelcoAsia noted, "We envision NEX Tower as the premier workspace for leading companies that value integrity, professionalism, and entrepreneurship, and we welcome these companies as our tenants."
The 28-story tower currently houses numerous local real estate and financial institutions. Jones Lang La Salle has a space in the building, as well as Siemens, and the Salcedo Auctions. The NEX tower was made in collaboration with international architecture and engineering firm Skidmore, Owings and Merrill (SOM), whose contributions in the world of architecture include Dubai's Burj Khalifa, and New York's World Trade Center.
"SOM is really well known for office towers," says Nova Group founder, Ricardo "Chut" Cuerva. "We just thought that if we're building a premium corporate office building, SOM is certainly one of the best companies to work with."
The mark of Chut
The son of a builder, Cuerva's inspiration comes from his father Richie Cuerva, and the early opportunities of observing construction sites. He would listen to his father speak to foremen and discuss problems and solutions to various issues. A structure's evolution, from converting a demolished site to materializing an entire building, fascinated him, and helped solidify his interest in architecture.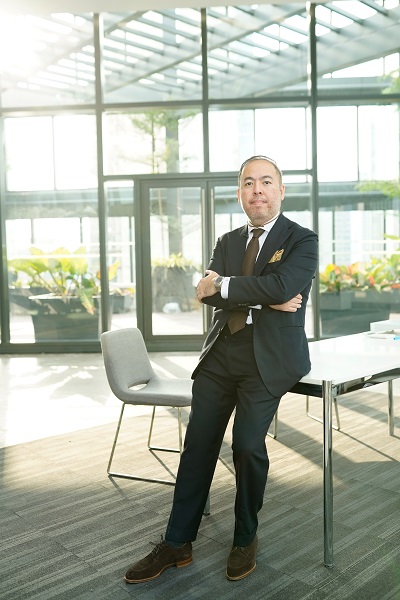 Cuerva turned to the US for his education and pursued an undergraduate degree in architecture from SCI-Arc, a more-avant-garde-than-others architecture school in Los Angeles. After traveling across Europe following his graduation, Cuerva returned to Manila post-Asian Financial crisis to join the family business. He completed his first development project in Essensa, in 1997. As a luxury condominium in a tumbling stock market, it was speculated the project would never see completion, but the residential high rise would be built to wide-spread critical acclaim. It remains an icon of the Bonifacio Global City.
Following this success, Cuerva returned to the U.S. to complete his studies and earn a Master's Degree in Real Estate Development at Columbia University. Here, he would learn from real titans in the industry, and find valuable lessons through weekly roundtable discussions from the bright minds in the campus.
After returning to Manila in 2002, Cuerva helped grow the Nova Group by increasing the scale of its projects. These developments include Century City in Makati, Azure in Bicutan, Acqua in Mandaluyong, and Commonwealth in Quezon City. In 2014, the company would begin to venture into the premium grade office market.
What the ULI means
The ULI Awards was launched as a Global Awards for Excellence program back in 1979, as a way to recognize developmental efforts in private, public and non-profit sectors. The ULI Award for Excellence is carefully chosen by a group of jury members who represent a geographically diverse group of recognizable leaders in the industry.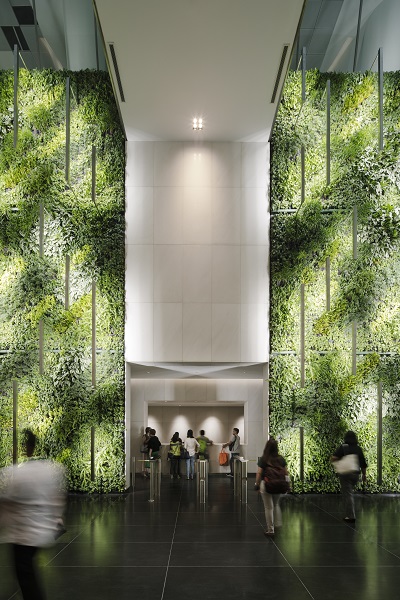 The nominees are evaluated through a set criterion that recognizes superior development efforts, financial success, a high standard of excellence in design, a positive impact on the community, and environmental sustainability.
The success of the NEX tower in the ULI Asia Pacific Awards is yet another accomplishment in Cuerva's list of accolades. Through the use of both creative design and sustainable materials, he shows it is possible for big corporations to create an award-winning structure that will leave a lasting impact on the local architectural universe.
"I love seeing people transform a building into their home or their workplace," says Cuerva. "At that point, most of our work is done and then we're on to the next project, and our cycle of creation begins anew." While there is no telling what the future holds for the man behind Nova Group, his current accomplishments have already added to his legacy.